JOHN CATLIN – THE WORLD AT HIS FEET
PUBLISHED ON: 03 / 11 / 2020
By Todd Staszko
With a season rocked by Covid-19 outbreak, one of the success stories on the European Tour has been the emergence of America's John Catlin, who seemingly came from nowhere to win twice in a three-week spell in September.
Catlin had been developing his career away from his native United States on the Asian Tour, which allowed him to hone his game away from the spotlight. With three wins in 2018 and another in 2019, the 29-year-old Californian has now broken through in a big way in Europe, first at the Estrella Damm N.A. Andalucía Masters at Valderrama and then the Dubai Duty Free Irish Open.
"I'm taking a nice, long break now," says a relaxed Catlin. "I've nothing in my schedule until the DP World Tour Championship, which I'm really looking forward to. In November I'll work on trying to get a few sponsors exemptions to play some PGA Tour events out in the USA, but if nothing comes off on the invites front I'll just use my time to prepare and be fully ready for Dubai."
'Shooting up the Race to Dubai'
Catlin's two victories – a birdieless final round grind to win by one shot ahead of Martin Kaymer in Spain and a come-from-behind final round 64 at Galgorm Castle in Ireland – saw him shoot up the Race to Dubai and earned him Rolex Series debuts at the Aberdeen Standard Investments Scottish Open and the BMW PGA Championship.
However, those events were the seventh and eighth consecutive weeks of a grueling stretch and he missed the cut in both before jetting back to America for a much-needed rest.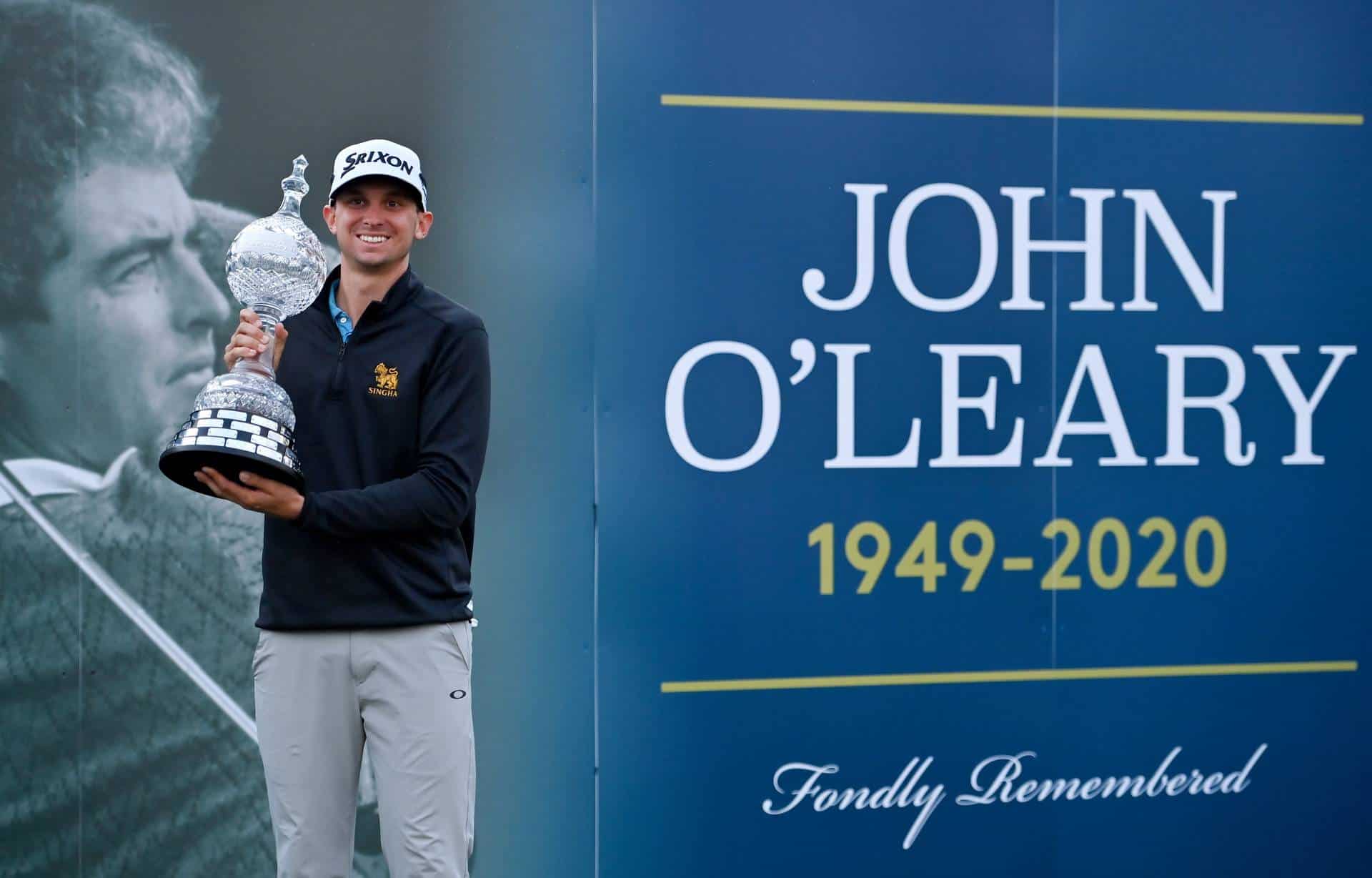 "It's tough out here because you have to earn your stripes and by the time it came to the two Rolex Series events in Scotland and at Wentworth I was exhausted," he says. "I wasn't at full strength for those weeks because I'd played so much golf leading up to them to try to get a spot in those fields.
"So, it will be nice to be able to fully prepare for future events and be mentally fresh. I wasn't going to get there and give in – I'm always going to give it everything I've got, but I could just feel I wasn't functioning at a hundred percent." Giving it everything is something Catlin has done since he started working with his coach, Noah Montgomery in 2013, shortly after turning professional. The idea of making his way up the rankings via the events on the Asian Tour was mooted by Montgomery and Catlin is glad he took his advice.
"Noah was the driving factor behind me, suggesting that I should try my hand in Asia," says Catlin. "I didn't know whether I should go for it or not, but I looked into the possibility a little bit more and figured that it would be a pretty good route to take.
'Earning my European Tour card'
"So, I went over to Asia for Q-School in 2015 and played there for a few years, making steady progress each year, and actually earned my European Tour card for 2019 via the Asian Tour. It proved to be a very good decision all round to make.
"I've been working with Noah for six years now. We met at a country club where we were both members. We started out as friends and I had seen the work he had done with a few other local players and was very interested. So I took one lesson and as the saying goes – 'the rest is history!'"
Catlin's three victories on the Asian Tour in 2018 saw him finish 6th in the Order of Merit to earn his status on the European Tour for 2019, and although he finished outside the top 100 in the Race to Dubai in his rookie campaign, he signed off on the year with victory at the Thailand Open in November for a fourth career Asian Tour win. Those performances stood him in good stead as he hit top form two months ago in Europe.
"The wins in Spain and Ireland are two victories that I will always cherish, and to have won both events so close together is pretty awesome. Your first title is always the hardest to win," he says.
'Something really special'
"I always knew I could do it, but you never know if it's actually going to happen and to be in the final group, playing against a former World No.1 in Martin Kaymer on arguably one of the most difficult golf courses in Europe at Valderrama, I was feeling the nerves all day and to come out on top was something truly special.
"What's funny is that last year, Valderrama kicked my butt and I missed the cut. I wasn't sure if I was going to come back to the event. But then my coach – again, the voice of reason suggested that I was playing well and should keep on playing. It's a good thing I took Noah's advice!"
Catlin then followed with a superb win at the Dubai Duty Free Irish Open just two weeks later, joining Major winners Hubert Green and Ben Crenshaw as the only Americans to have won the prestigious title.
"It's incredible to join those great Americans and the European names that are on that trophy are guys I've grown up watching," he says. "Every time I looked at that trophy, I would read the winners on the list over the last 30 or 40 years and say, 'Oh my goodness did I win that.' Then I'd notice another famous name popping out and I'd say – 'Oh wow, did he win it, too' – and so on.
"It's a special event – a long-standing title on the European Tour. To be a past champion of that tournament with such a prestigious trophy to treasure for the rest of my career is something very special."
Catlin found the winning touch in Europe, taking what he learned in Asia and putting it into practice on a much bigger stage was a milestone in his burgeoning career. "My victories on the Asian Tour absolutely helped me make the step up to the European Tour because it's difficult to win an event, no matter where you play. Knowing I had won before certainly gave me the confidence that I could do it again against better players.
"The calibre of the top players on the Asian Tour is very strong, but the fields on the European Tour are much deeper – they are full of world-class players." Catlin is comfortable playing on the European Tour and doesn't feel out of place as an American plying his trade internationally. "There are other Americans out here playing in Europe and the friendly camaraderie creates an enjoyable atmosphere," he says. "One of the good things about golf is that it's such an individual sport it's all about finding your comfort zone and doing your very best.
"I've played in Asia, in Canada and now throughout Europe. It doesn't matter where you play or where you've come from, it's just you out there trying to play your best game – and that's how I've always looked at it."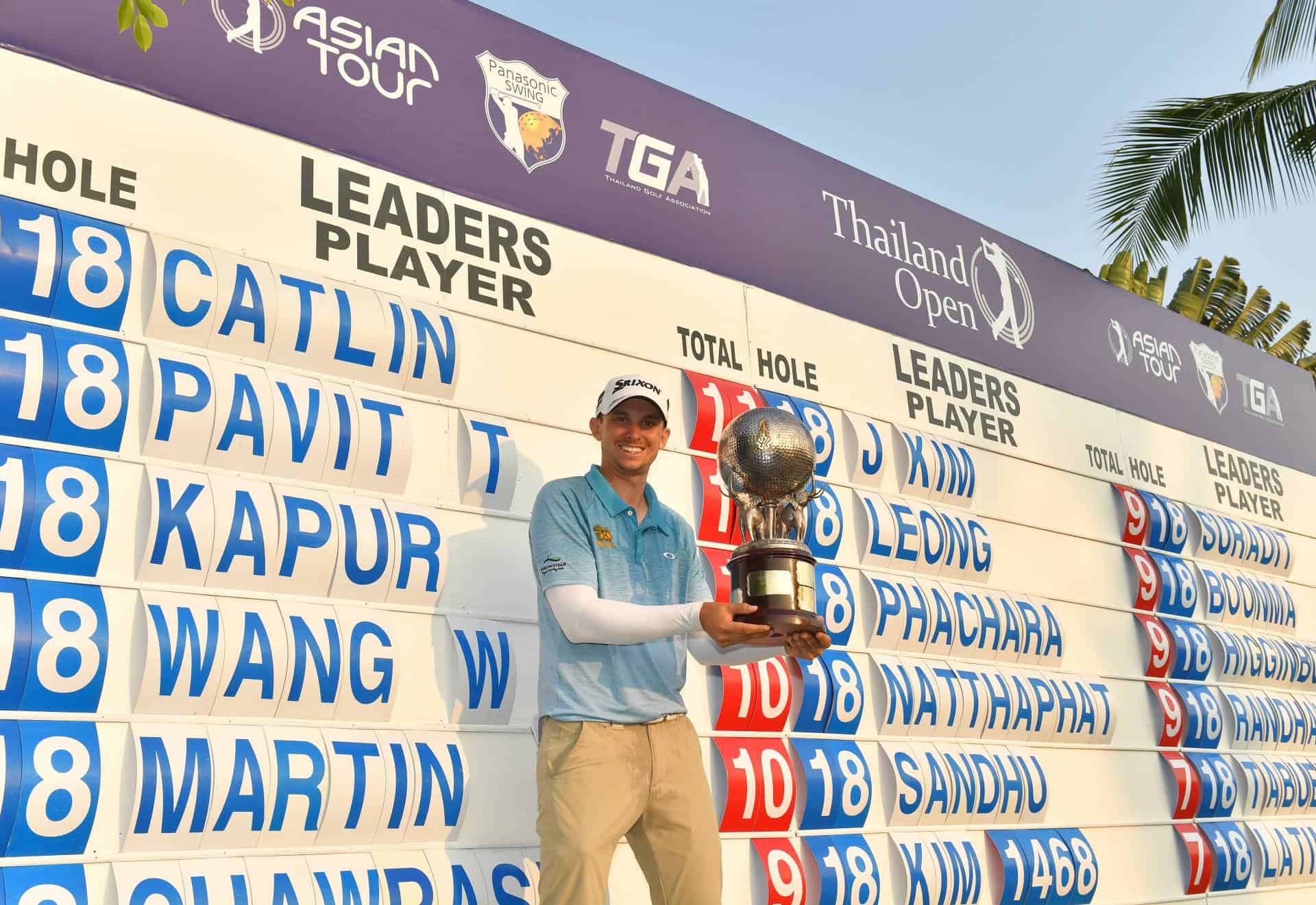 With the achievement of winning on one of the two major Tours and stepping inside the top 100 in the Official World Golf Ranking for the first time – what happens next?
"I do set goals for myself and I'm a firm believer in having targets to aim for. Once I reach a certain goal I give myself a little pat on the back and then immediately set my sights on another achievement," he says.
"My next goal is to get into the top 50 in the World Ranking because that gets me into the Majors and will give me more starts on the PGA Tour. Eventually winning on the PGA Tour is an important goal, too.
"Right now, I think the European Tour gives me a great opportunity to improve my ranking and continue to fine-tune my game and play against some of the best players in the game. There are so many great players in Europe and I've learned a lot from them and enjoyed competing against them.
The American Dream
"I would say that most American-born golfers who grow up dreaming of playing professional golf, want to play on the PGA Tour that's where we want to get to and it's one of my goals, too.
"If I can get into the top 50 in the world, that would open up the door and give me the chance to earn a full card over there."
The next time Catlin is set to mix it with the best the European Tour has to offer will be at the DP World Tour Championship at Jumeirah Golf Estates in December and he's certainly looking forward to making his debut in the end-of-season event on the European Tour.
"I can't get there soon enough," he says. "It's a world-class event and I'm really looking forward to the opportunity to play it and see what happens. You never know, I might get hot just at the right time. It would be good to get three big wins under my belt in 2020. I did it in 2018 on the Asian Tour, and I'd love to do it again this year on the European Tour."
Catlin's only taste of the Middle East so far came last year at the Oman Open and he enjoyed his week at Almouj Golf and was disappointed not to be able to return to this year's event.
"The tournament in Muscat was great and the whole week was fantastic," he says. "The hotel we stayed at, the Kempinski, was one of the nicest hotels I've every stayed at. The golf course was immaculate, the people were very friendly, the food was delicious and it was, altogether, a great experience.
"I was hoping to come back and play again, but unfortunately with the changes in the scheduling I couldn't make it happen. It's a great golf course and a wonderful event and I'm looking forward to getting back to that part of the world again real soon."
Now with the security of a European Tour exemption, Catlin can plot a schedule that works for him and he's looking forward to ending this year and starting next season in the Middle East.
"Now that I can get into the bigger events I can pick and choose where to play – and be ready for them," he says. "I can't wait to sign off on 2020 and pick up where I left off again in Dubai and Abu Dhabi for 2021."